WE PROUDLY SERVE USDA
UPPER 2/3 CHOICE BEEF
Grass fed * Mash Finished * Hormone & Antibiotic Free Beef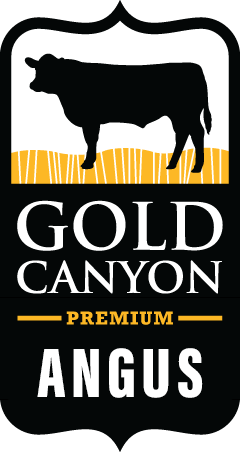 CRUMB CAKES
NY/NJ Style available in original, blueberry & Apple
From Le Cave's Bakery & Donuts.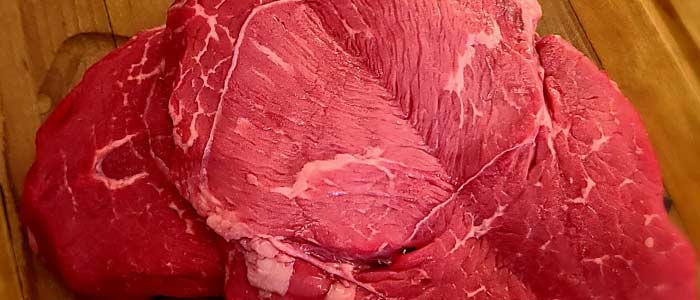 A Houghton Meat Market Original! Our unique, specialty cut known for its tenderness and flavor.
A boneless cut from the rib section, the ribeye is prized for its rich marbling, tenderness, and intense beefy flavor.
Similar to the boneless ribeye, but it includes the rib bone, which adds flavor and juiciness when cooking.
A lean and versatile cut from the top of the sirloin primal, known for its firm texture and robust beefy taste.
Taken from the breast section, brisket is a tough cut that becomes tender when slow-cooked, making it ideal for barbecue or braising.
This is ground beef with a fat-to-lean meat ratio of 85% lean meat and 15% fat, suitable for various dishes like burgers, meatballs, and tacos.
This steak features a T-shaped bone with two cuts on either side—the strip steak (New York Strip) and the tenderloin (Filet Mignon).
These are meaty ribs cut from the brisket, chuck, or plate sections, commonly used in slow-cooking methods to achieve tenderness and flavor.
A visually striking bone-in ribeye steak with a long bone resembling a tomahawk handle, known for its impressive presentation.
Renowned for its tenderness, this steak is cut from the tenderloin and has a mild, buttery flavor.
Cut from the shoulder, chuck roast is flavorful and suitable for slow-cooking or braising to make pot roasts and stews.
Typically marinated and grilled, and cut from the Houghton Handsome Steak, this thinly sliced beef is commonly used in Mexican cuisine and has a bold, seasoned taste.
Similar to the T-bone steak, the porterhouse boasts a larger tenderloin section, making it a substantial and flavorful cut.
A boneless steak from the short loin, the New York strip is well-marbled and known for its bold, beefy flavor.
A lean and tender cut from a young calf's leg, often used for roasts or schnitzels.
These are bone-in cuts from veal, known for their tenderness and mild flavor, often prepared as grilled or pan-seared chops.
Used for making rich veal stock or broths, these bones are prized for their gelatin content.
Thinly sliced pieces of seasoned and marinated beef or lamb, commonly used in gyro sandwiches.
A nutrient-rich organ meat with a distinct flavor, often used in dishes like liver and onions.
The tail of a cow, oxtail is known for its gelatinous texture and is used in soups, stews, and braised dishes.
Beef tongue, typically slow-cooked until tender and used in various culinary traditions.
The stomach lining of a cow, often prepared by scalding and used in soups and stews.
A type of beef tripe with a distinct honeycomb-like texture, used in various culinary applications.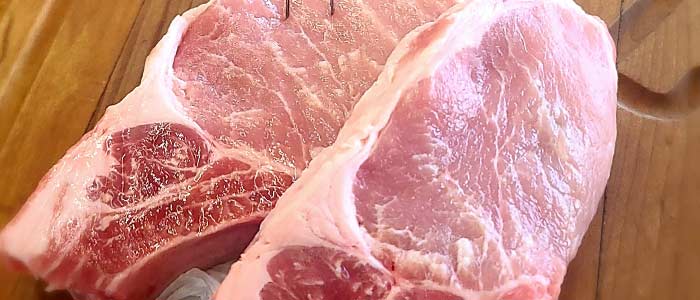 Thick-cut pork chops with the bone left in, prized for their tenderness and flavor.
Thick-cut pork chops with the bone left in, prized for their tenderness and flavor.
Pork Country Style Rib Boneless
Boneless pork ribs with a country-style seasoning, perfect for grilling or slow-cooking.
Pork Country Style Rib Bone In
Similar to boneless country-style ribs, but with the bone left in for added flavor.
Tender and meaty ribs from the back of the pig, commonly used in barbecue dishes.
Meaty spare ribs from the belly area, trimmed into a rectangular shape, popular in barbecue cooking.
Bacon Applewood Smoked Sliced
Thin slices of bacon that have been applewood smoked, known for their smoky and sweet flavor.
Bacon Hickory Smoked Sliced
Thin slices of bacon that have been applewood smoked, known for their smoky and sweet flavor.
Bacon Pecanwood Smoked Sliced
Thin slices of bacon that have been hickory smoked, offering a strong and smoky flavor.
Sliced bacon with added jalapeno flavor, offering a spicy kick to your dishes.
The lower portion of a pig's leg, often used to flavor soups, stews, and beans when raw.
Skinless pork bellies, typically used to make bacon or for braising and roasting.
The feet of a pig, often used in traditional dishes like pickled pig's feet or in soups.
Cheek meat from the pig, commonly used to make guanciale or as a flavorful addition to dishes.
Thin slices of pork belly, used in various dishes like Korean barbecue or as bacon.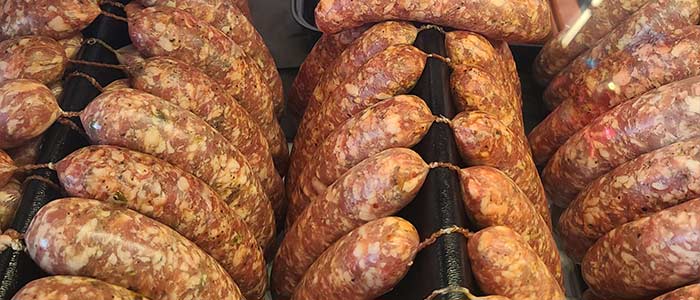 Sausages made with Carolina Reaper peppers, one of the world's hottest chili peppers, known for extreme spiciness.
Sausage Green Chili Cheddar
Sausages featuring green chili peppers and cheddar cheese for a flavorful combination.
Traditional German sausages, often grilled and served with sauerkraut and mustard.
A highly seasoned, spicy sausage used in Mexican and Spanish cuisine, known for its bold flavor.
A smoked sausage with origins in Louisiana Creole cuisine, often used in dishes like gumbo.
Sausages seasoned with a blend of peppers and onions, providing a savory and slightly sweet taste.
Sausages featuring jalapeno peppers and cheddar cheese for a spicy and cheesy combination.
A Portuguese sausage known for its garlic and paprika seasoning, often used in various dishes.
A beef version of the spicy Andouille sausage, suitable for various Cajun dishes.
Sausage Beef Jalapeno Chipotle
Beef sausages with the smoky and spicy flavors of jalapeno and chipotle.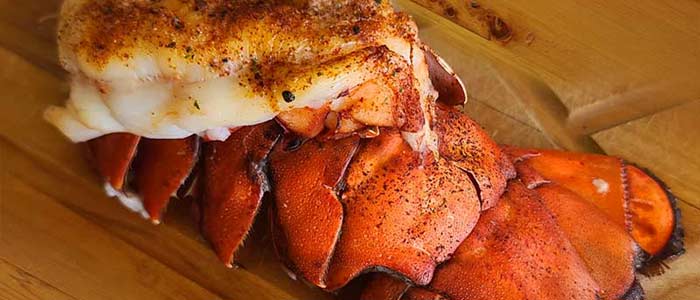 Shell crabs are blue crabs that have recently molted their hard shells, making their entire bodies edible and tender.
Crawfish tail meat is the meat extracted from the tails of crawfish, often used in dishes like étouffée and gumbo.
Whole cooked crawfish are typically boiled and seasoned before consumption, with the meat found in the tail and claw.
Lobster tails are the meaty portions of the lobster, often broiled, grilled, or steamed and served with butter.
A firm-textured, mild-flavored fish commonly used in seafood dishes, especially in grilling and tacos.
"U-10" refers to the size of scallops, with less than 10 scallops per pound. They are sweet and tender, suitable for various preparations.
Peeled and deveined shrimp with a count of 16-20 per pound, considered slightly smaller and still versatile for cooking.
A meaty fish with a mild flavor, often grilled or broiled, and popular in steaks due to its dense texture.
A mild and flaky white fish that is versatile and commonly used in various cooking methods, from baking to frying.
A type of tuna known for its deep red color and meaty texture, often seared or served raw in dishes like sushi.
A freshwater fish with mild, delicate flesh, often pan-fried or grilled, popular in regions with freshwater lakes.
Calamari Rings & Tentacles
Squid rings and tentacles, commonly served battered and fried as a popular appetizer.
Alaskan King Crab is celebrated for its large legs filled with sweet and succulent meat, often steamed or boiled.
Lump crab meat consists of larger pieces of crabmeat, typically used in crab cakes or salads.
Snow crab clusters contain a mix of leg and claw meat, commonly boiled and served with butter.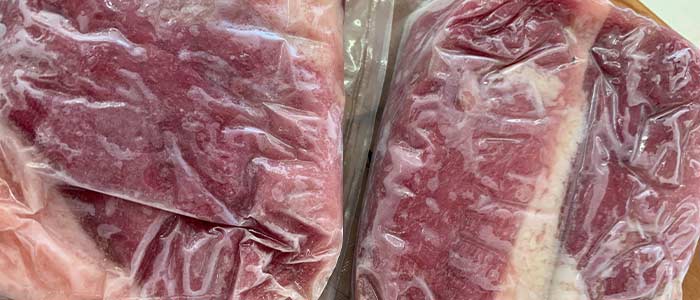 Alligator meat is lean and tender, with a mild flavor reminiscent of chicken or seafood. It's often used in dishes like gumbo and jambalaya.
Ground bison patties are a lean and flavorful alternative to beef, suitable for making burgers and other ground meat recipes.
Bison top sirloin steaks are known for their tenderness and rich, beef-like flavor, perfect for grilling or broiling.
Chicken feet are used in various Asian cuisines and are prized for their collagen-rich skin and gelatinous texture when cooked in soups or stews.
Boneless duck breast is a versatile and succulent cut, often pan-seared or roasted to medium-rare for a crispy skin and tender meat.
Whole ducks are used in a variety of dishes, with the meat, skin, and fat providing rich flavors, commonly roasted or braised.
Elk New York strip steaks are well-marbled and flavorful, often cooked similarly to beef steaks.
Elk tenderloin is a lean and tender cut with a mild flavor, ideal for quick cooking methods like grilling or searing.
Frog legs have tender and delicate white meat, often sautéed or deep-fried and served as a delicacy.
Goat Cubes Skinless Bone In
Skinless, bone-in goat cubes are used in various international cuisines, often braised or stewed for tender and flavorful results.
Whole geese are known for their rich, flavorful meat and are often roasted, especially during festive occasions.
Quail is a small game bird with tender, delicate meat, often roasted or grilled for a delicate flavor.
Venison rack chops are tender cuts from the rib section of deer, commonly cooked with minimal seasoning to showcase the natural flavor.
Venison Steaks Strip Loin
Venison strip loin steaks are lean and flavorful, suitable for grilling or pan-searing.
Venison osso buco chops are cross-cut sections of the shank, perfect for slow-cooking in rich, flavorful stews.
Elk New York strip steaks are well-marbled and flavorful, often cooked similarly to beef steaks.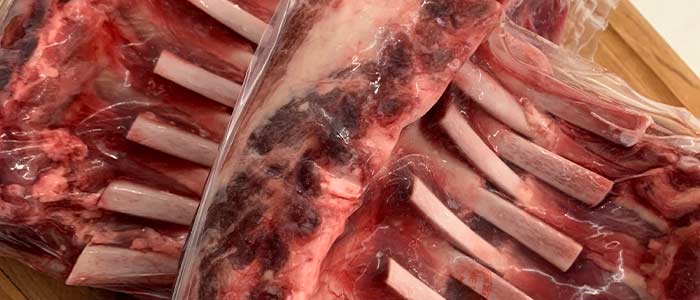 Lamb chops are individual portions cut from various parts of the lamb, often from the rib or loin, known for their tender and flavorful meat. They are commonly pan-fried, grilled, or roasted.
Boneless lamb shoulder is a versatile cut with a good amount of marbling, making it suitable for slow-cooking, braising, or roasting.

A whole chicken includes all parts of the chicken—breasts, thighs, wings, and drumsticks. It can be roasted, grilled, or cooked in various ways.
Turkey Breast Boneless Raw
Boneless turkey breast is lean and versatile, suitable for roasting, grilling, or slicing for sandwiches.
Ground turkey is a versatile option for a leaner alternative to ground beef and can be used in a variety of recipes, including burgers and meatballs.
Smoked turkey legs are popular at fairs and festivals, offering a smoky and savory flavor profile.
Cornish hens are small, young chickens, often roasted whole and served as individual servings, each with its own distinct flavor.
Chicken fajita typically consists of marinated and grilled chicken strips, often served in tortillas with bell peppers and onions.